On April 18, 2022, Yield 4 Group of Companies was honored with the ISO 9001:2015 Certification for Quality Management Systems. The ISO 9001:2015 Certification for Yield 4 Group of Companies' Quality Management Systems is based on Trade Finance and other Financial Services.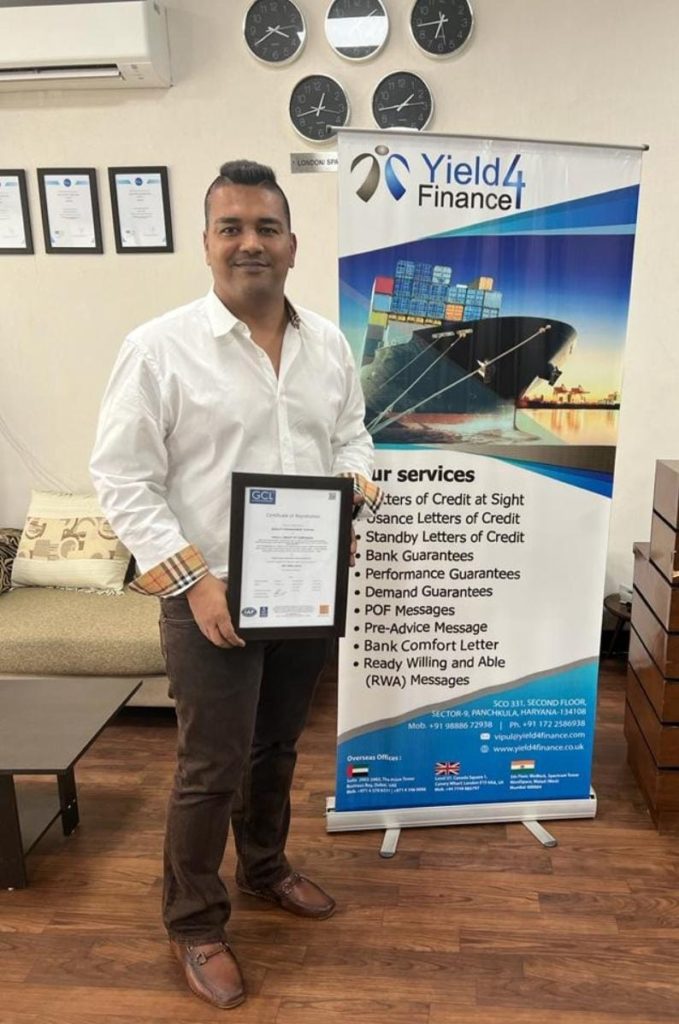 This standard will enable Yield 4 Group of Companies to improve their business processes, work productivity of employees, quality management, save time, minimize errors, and costs and maximize resources. Hence, the group is driven to gain significant profits, benefit their customers and deliver utmost customer satisfaction.
Issued by the International Organization for Standardization, the ISO 9001:2015 standard is used by over 1 million global organizations. It applies to any organization ranging from all types of business sectors and activities. To achieve the ISO 9001:2015 certification, an organization should meet all the necessary specific requirements for a quality management system and is able to serve its customers at the highest level.
Yield 4 Group of Companies is a leading provider of the best in class financial instruments in trade transactions. We provide trade finance solutions including Documentary Letter of Credit (LC), Standby Letter of Credit (SBLC), Bank Guarantees (BG), and other Pre-Advice Messages. As a notable name in the industry since 1998, we specialize in understanding the complex trade transactions of our valued customers. This enables us to provide them with the optimal solution for their business requirement for a variety of projects like import, export, or local projects. We provide services to clients situated worldwide and currently have offices in many locations. Most of our clients are trading companies and importers who want to have complete control of their liquidity and avoid any sort of bureaucratic processes and documentation that typically traditional providers require.